Health Education England's (HEE) Technology Enhanced Learning team is releasing the Learning Hub at the end of May 2020 with core functionality to support the Coronavirus (COVID-19) response by enabling the health and care workforce to share and access resources during the pandemic.
The Learning Hub will be a new digital platform that will provide easy access to a wide range of resources that are pertinent to education and training in health and care.
As the Learning Hub is being designed based on users' needs and developed using an agile, iterative approach new features will frequently be released in line with the original plan for the Learning Hub in its Beta phase. This agile approach means the users will have access to and experience the benefits of new features as quickly as possible to provide a comprehensive learning experience.
At the release of this phase of the Learning Hub users will be able to contribute digital resources including e-learning, video, audio, images, web links and articles. e-Learning files will need to be downloaded and locally installed so they can be used on another learning management system. Users will be able to view resources they have added as the contributor, work on them in draft status, edit a published resource, unpublish a resource and view if one of their resources has been unpublished by a system administrator and the reason for this.
Learning Hub users may report a resource, for example, if there is an issue with copyright infringement, breach of personal data, factual inaccuracies, typing errors or safety concerns. The type of issue will determine whether the resource is immediately removed from the platform or if the contributor is asked to make amendments to it.
Users will also be able to search for resources by using terms that match the title, description, keywords and author and there will be an information page for each resource contributed to the platform; the resources will also be discoverable via search engines.
As much of the focus of the Learning Hub is about being able to share content on a national platform and throughout their networks, users will be able to access the resources, and share them on social media and with colleagues.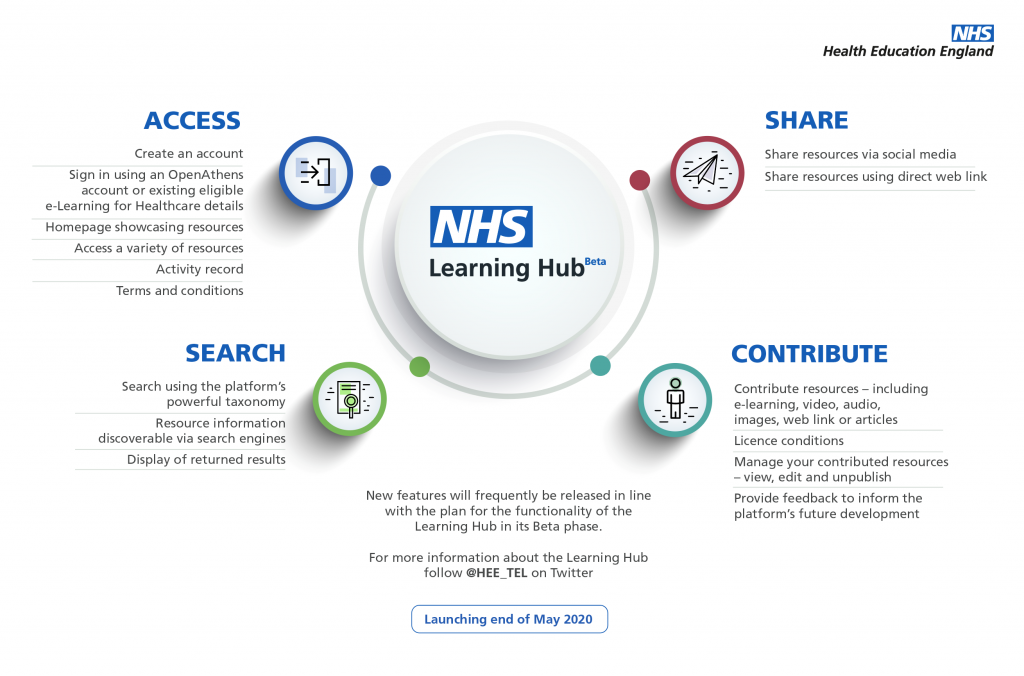 There will also be a support site and a team to help users with any issues or questions they may have. Users will also be able to provide feedback about the Learning Hub so the development team can learn more about what users want from the system and how it can be improved.
Users who have an existing eligible e-Learning for Healthcare account will be able to sign into the Learning Hub using the same details, as the two platforms will be complementary; providing a wider learning opportunity for the health and care workforce.
The new HEE learning platform will be rolled out using a phased approach to groups of stakeholders so they can benefit from the system being live to meet the needs of the health and care workforce during the Coronavirus (COVID-19) pandemic. The platform will continue to evolve and feedback from users experiencing the live system will be invaluable for its future development.
If you would like to know more about this release of the Learning Hub follow @HEE_TEL on Twitter, read the blog and look out for regular updates over the next few weeks.