The Pathology Portal is an innovative learning resource for pathology trainees and consultants, created in partnership by The Royal College of Pathologists and HEE TEL.
Featuring a range of online resources for learning, healthcare training and quality assurance schemes, the portal's resources are interactive and easy to use. It allows flexible training to plug learning gaps at a local, regional and national level.
Professor Jo Martin, Pathology Portal Project lead said: "The Royal College of Pathologists in partnership with HEE TEL, has developed and created this innovative project. The creation of the Pathology Portal will deliver a platform to host high quality training materials that can be customised to individual needs covering flexible training, return-to-work training, and testing of learning".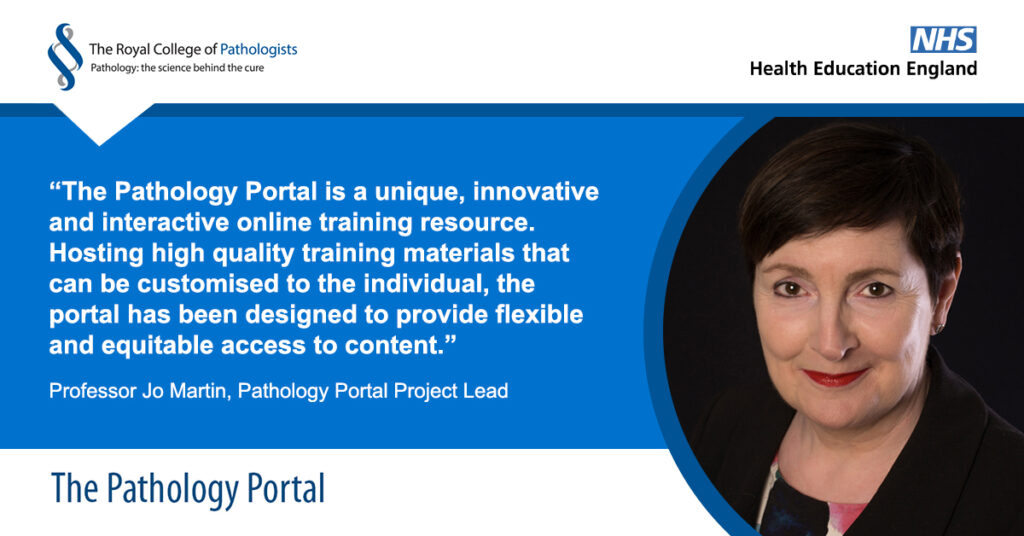 Dr Neil Ralph, Head of HEE TEL, said: "The development of the Pathology Portal will enable educators and learners to benefit from greater consistency and efficiency in the training of pathology skills through the power of the digital approach. We are delighted to be partnering with the Royal College of Pathologists on this exciting project.
"Available in the Learning Hub and the college's website, the portal has been designed to facilitate the training of the existing and future healthcare workforce with content that can be tailored to individual learner needs, to cover flexible and return-to-work training, as well as competence testing. The ambition for the Pathology Portal is to replicate real world training environments as closely as possible".
Initial modules cover cytology, autopsy pathology, neuropathology and histopathology, including sub-specialist training material that is not widely available. The next phase of the Pathology Portal involves expanding the content for all pathology specialities and this project is underway.
The Pathology Portal is available on the Learning Hub now. People with an NHS or university email address can register on the Learning Hub or login with their elearning for healthcare (elfh) Hub details. Visit the Pathology Portal for further information about the resources.
For more information about the Pathology Portal project, email: pathologyportal@rcpath.org.