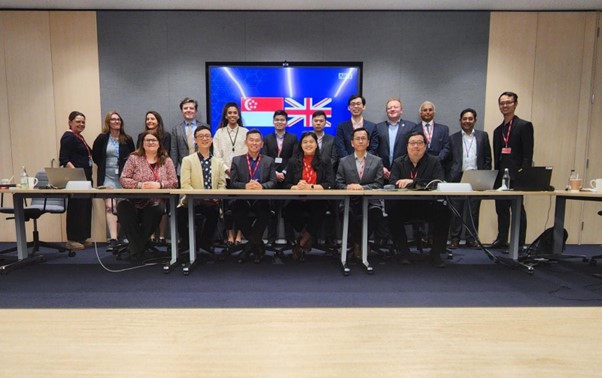 In May 2023, NHS England (NHSE) welcomed a delegation from the Singapore Ministry of Health to London, to share learning and knowledge on our respective health systems.
As upper income countries, the UK and Singapore are dealing with similar challenges around implementation of technology in our health services, alongside demographic challenges of an ageing population and the increasing burdens of non-communicable diseases, and pressure on health worker recruitment and retention. While the countries' healthcare models differ, there is still much to learn from each other about improving the way we deliver healthcare benefitting the Singapore and English health services.
The delegation was keen to learn from the English NHS around our implementation of digital and technology to support patients such as the development of the NHS app, interoperability of clinical systems and the latest advances in artificial intelligence. While the delegation was primarily visiting London to learn from the NHS's digital development work, I was invited to share our work in Technology Enhanced Learning (TEL) and offer a different perspective on digital innovation in healthcare: the importance of the health workforce.
I shared our NHSE TEL work on planning, recruiting, educating and training the health workforce, emphasising that many of the digital innovations in health being discussed, rely on a well-trained and digitally ready health workforce. Discussions took place around new roles in healthcare such as nurse associates and physicians associates, as well as developing the UK model of delivering postgraduate workforce education using TEL. This including demonstrating elearning for healthcare, Learning Hub, and using simulation and immersive technologies, while of course developing faculty, systems and processes to deliver these new ways of working.
In exchange, the Singapore delegation offered insights into their health system, including some rich discussions about how remote teaching could be offered through use of immersive technologies, in which the Singapore Ministry of Health are starting to invest.
It is clear that while our health systems may differ, there is much we can learn from colleagues in Singapore and vice versa, as we strive to develop the health workforce in preparation for a digital future for the benefit of patients.
The knowledge exchange event was arranged through the NHS Consortium for Global Health and the Singapore Ministry of Health. I was joined by colleagues from across the NHS and UK Government, including Department for Business and Trade.