User research is fundamental to the development of the Learning Hub to helps us understand what users need from the new platform. Our user research approach sees genuine, future users of the Learning Hub input into how it is designed and developed to meet their needs. Everything we do has to be with the audience in mind, from the general look and feel of the page designs to the minute detail of iconography to categorise resources.
To date we have carried out a significant number of research sessions that have included online group sessions, one-to-one usability testing, getting users together in a room to discuss topics openly and learning from healthy debate. This process will continue, up to and beyond the initial release of the Learning Hub, as we continue to learn from users and add more features to the platform.
We have developed a series of user research overview packs that offer an insight into the research sessions conducted to date. The packs outline what was covered in each user research piece, the types of participants, as well as the high-level, key findings that were discovered and the actions to take forward using the insights gained.
This specific user research exercises focused on searching for resources within the Learning Hub. 13 participants were asked to give feedback on questions centred around their expectations of user journeys when conducting searches on a system. These included users' expectations around predictive search, the card-based layout, sort by and filter options and whether they could easily identify different types of resources. The results of these questions have been analysed and a list of required actions and decisions concluded.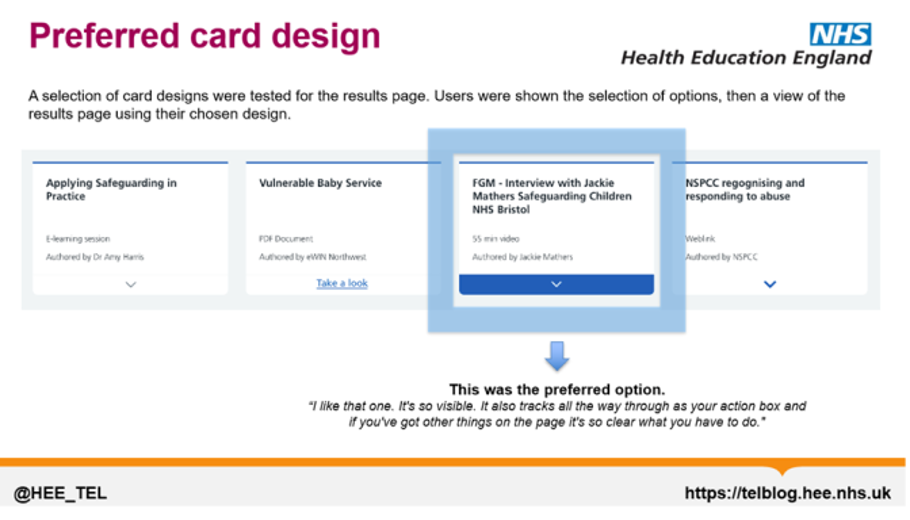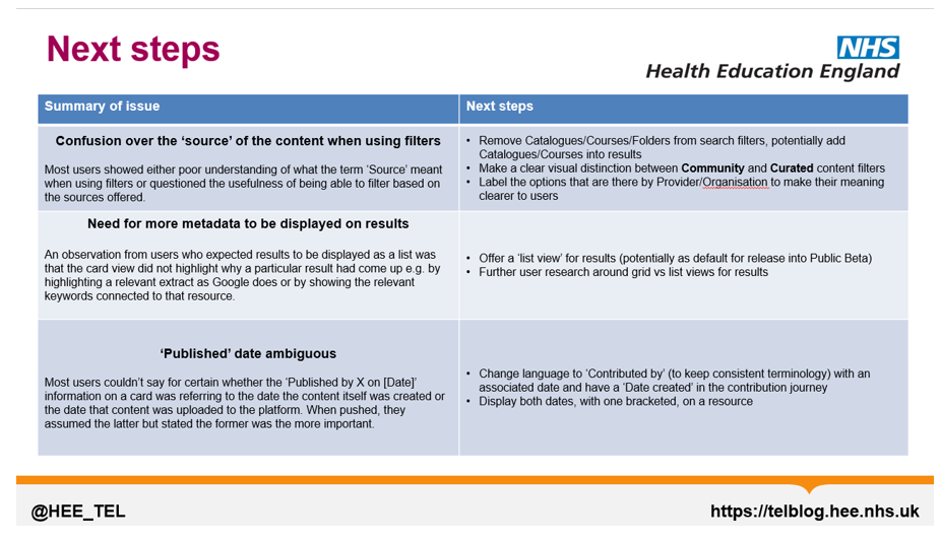 The user research packs are available to view here.
Further user research overview packs will be developed as more research is undertaken. If you wish to get involved in the continued user research programme, please complete this short form or email: scott.mountifield@hee.nhs.uk.
For more information about the Learning Hub follow us on Twitter: @HEE_TEL, visit: telblog.hee.nhs.uk to read blogs about our journey so far or visit: www.hee.nhs.uk/tel.