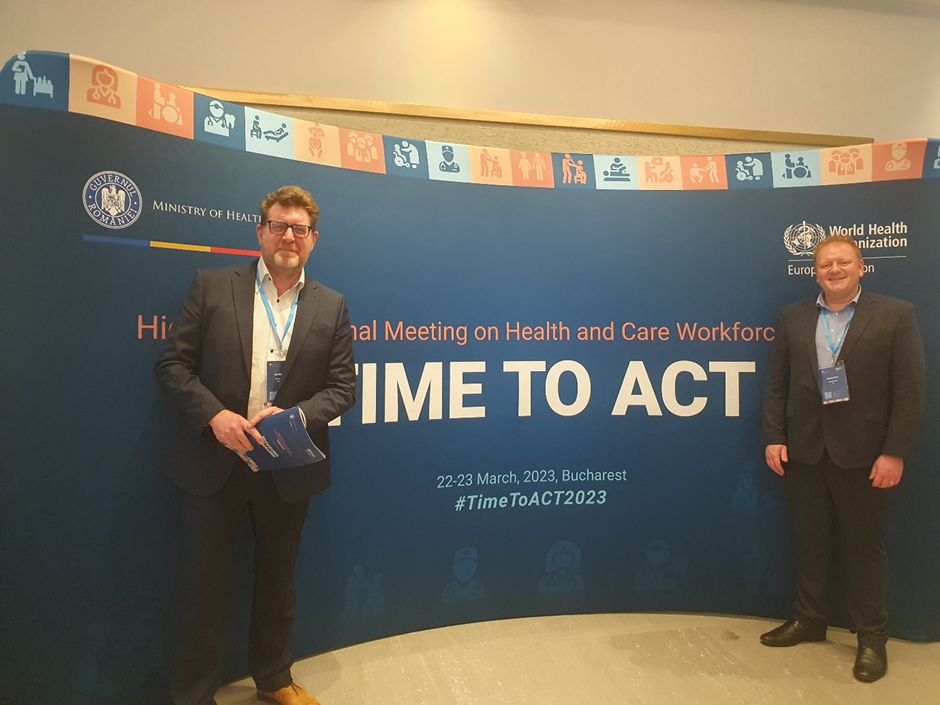 Those of us working in health and care know that health workers are at the heart of any health system. Despite advances in digital health, diagnostics and other health technologies, the human remains firmly at the centre of care for patients. After all, vaccines cannot administer themselves, C-sections cannot perform themselves, and computers cannot provide palliative care.
Despite this knowledge that protecting and investing in health workers is imperative, many health systems still fail to acknowledge the vital role that we all play in the delivery of health care, whether we are a clinician or a support worker. Working with the World Health Organization (WHO), the Technology Enhanced Learning (TEL) global team joined delegates from more than 50 countries in Bucharest, Romania, to agree a set of principles that all health systems should work towards to invest in and protect the most vital part of our health systems: the health and care workforce.
While the meeting put forward a series of recommendations on developing and investing in the health workforce, it also acknowledged that there was still significant progress to be made as countries work towards universal health coverage like we have with the NHS in England. The COVID-19 pandemic reminded us that diseases and healthcare do not respect national boundaries, so it has never been more important to collaborate and share knowledge and expertise globally.
It was a huge honour to represent the NHS and TEL as part of the UK delegation, and to sign the Bucharest Declaration – a set of principles that all health systems should work towards to ensure health worker rights are enshrined and protected. Notably, from discussions with peers, there was a growing sense of common purpose around development of the health and care workforce. Digital education and TEL were very much at the heart of these discussions.
Importantly, the discussions focussed on practical action now, and not just discussion about what needs to happen in the future. Previous analysis by WHO suggests that workforce shortages and pressures are particularly acute in Western Europe, exacerbated by COVID-19. But these pressures have created an environment ready for change, with an increased focus on multidisciplinary teams, digitalisation, primary care and public health.
While there isn't a universal solution to these challenges around health workforce, there are shared areas where countries can collaborate, specifically looking at working conditions and mental health and wellbeing of our health workforce. These are areas where TEL is supporting in the UK, by developing programmes of learning to give everyone working in health the opportunity to develop their skills and support their wellbeing.
It is "time to act" on health workforce, and that time is now. I couldn't be more proud to work with TEL and to be an integral part of the solution!